Dear Life,
Since my husband's birthday was Sunday...I tried my best to look extra sassy....gotta keep the home fires burning...Wink Wink!
Cute right? Since I have the LONGEST legs ever...I have the hardest time finding the right length skirt...this one was on clearance on Lane Bryant and I LOVE LOVE LOVE it!
Check out the little half boots...also Lane Bryant and SUPER CUTE! I never used to be able to find shoes my size...much less my width. Size 11 thank you very much children....(yes they have grown after my kids...used to be an 8 1/2) and wide. I wore these ALL day and they never hurt me! YES!
Now...if you know me you can attest to the fact that I am a glitter girl. How can I not be living in such a testosterone filled home? Check out this beautiful sweater....it's so comfy...and it has a little sparkle. I love it!
Did you catch the little bling at the neckline of my blouse? Yeah...can't help it!
New glasses after 4 1/2 years too!!!! YAY for being able to see again
From...A Mom of Boys!
I'm Linking HERE: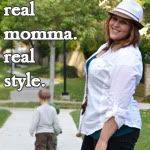 and