Dear Life,
I had the opportunity to try out a pair of Dawg's Premium Spirit Shoe and review them.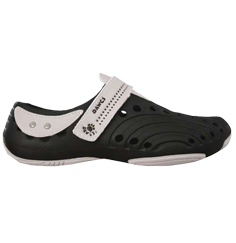 I choose the black with pink because the black is versatile and the pink makes them look a little more feminine.
I put them on for a day of running around. Let me preface this review by saying I have very difficult feet. Ever heard of your feet growing after kids? It's true. No myth. I had an 8 1/2 foot before I had kids. Now my feet are...a size 11!!! I was actually grateful when Paris Hilton came around with size 11 feet....because of her there are more options for this mama! So, I was pleased to see that Dawg's has size 11. Not only do I have ski's for feet, I have wide feet. Again Dawg's delivers....my big fat feet fit into the shoe.
As I was running around, I noticed that the shoes have a great arch, and the I had an extra spring in my step. These shoes are great because you can slip them on quickly with or without socks, they are light and airy. The one issue I had is only that top of my foot is fat not petite and the shoe was snug on the top of my foot. I can't wait to get a few pairs for my boys... they need quick, put on and go shoes and these have the extra benefit of giving them support.
SOOOO....here's the best part. You too can own a pair of these shoes courtesy of Dawg's Footwear. You must pick a pair from the Premium Spirit Shoe line, but you can choose from Women's, Men's, or Kids. Sweet, right?
Here's the website~
a Rafflecopter giveaway